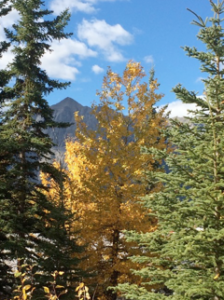 Carrying Group
The Calgary Branch is organized with a Carrying Group, which is concerned with supporting Anthroposophical initiatives in the area. 
Initiatives: 
Study Group
The 2022-2023 term was a fruitful year with our study group. Our form involves weekly Thursday evening conversation that we are preparing for ahead of time by reading a lecture or a section in a book. The group size has more than doubled this year with 10 to 15 people participating. 
Here is a sample of what we have studied together this year:
Blessed by Illness, by L.F.C. Mees an anthroposophical doctor
The Future of Ahriman and the Awakening of Souls, by Peter Selg
The Universal Human, a series of four lectures by Rudolf Steiner
Bridges between Life and Death, by Iris Paxino
Reflections on the Mystery of Love, by Rene Querido
The Four Seasons and the Archangels by Rudolf Steiner.
As well, we spent a few weeks doing a plant study in the fall and sharing our observations for a few minutes at the beginning of the meeting. For more information please contact us at  asccalgarybranch@gmail.com
TALC (Tiny Anthroposophical Library of Calgary) and www.rsarchive.org
We have over 200 books by Steiner and other anthroposophical authors that can be borrowed for free! Contact us at asccalgarybranch@gmail.com for more information or questions about the library.
If you prefer to access books or lectures digitally, check out https://www.rsarchive.org.
We are also accepting anthroposophical books if you would like to donate them.
School of Spiritual Science
The First Class of the School in Alberta meets bimonthly in Calgary on selected Sundays except during July and August.
For more information contact us at  asccalgarybranch@gmail.com
Christian Community
The Christian Community is a movement for religious renewal founded in 1922 with the help of Rudolf Steiner's indications.
The Christian Community in Calgary is an affiliate of the Vancouver congregation. It began in December 2020 with a weekly online devotional gathering with participants now spanning the continent: Calgary, Vancouver, Seattle, Portland, Maine, Tennessee, Alabama, North Carolina, Arizona, Florida and New York.
Since June 2022, the Rev. Erica Maclennan (from Vancouver) has been our priest and has come twice per year.  In July, Erica will lead a children's day camp culminating with the Children's service, the Consecration of the Human Being, a potluck lunch and a puppet play.
If you would like to be included in notices about happenings with regard to The Christian Community, please contact Christine Wuerscher at chriswuerscher@shaw.ca