The Kelowna Parzival Group
Contact List
Kelowna Parzival Group (Branch and Study Group): Brigitte Knaack, Ph. 250-764-4710, beknaack@telus.net
School of Spiritual Science: Brigitte Knaack, Ph. 250-764-4710, beknaack@telus.net
Lakeside School: 429 Collett Road, Kelowna, BC, Ph. 250-764-4130, info@lakesideschool.ca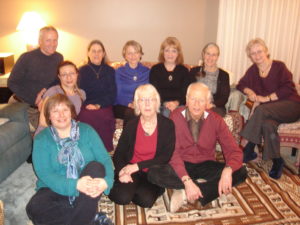 Our study group was started in March 1978. On April 25, 1990, the Kelowna Parzival Group celebrated its inauguration as an official Members' Group of the Anthroposophical Society in Canada.
For many years, members were gathering in the homes of members. In 2002, we started to meet in the faculty room of the Kelowna Waldorf School (now Lakeside School). With the exception of July and August, the group meets every Monday night from 7:15 PM to 9:00 PM.
We always start the evening by reading the verse of the week from Rudolf Steiner's The Calendar of the Soul in English and German. The reading is followed by a few minutes of silence, after which we share our thoughts on the mood of the verse as it reflects the inner life of the soul in relation to the outer life of nature. Since we use a version of the Calendar that contains seven different English translations, we often reflect on the different renderings and the translators' attempts to mirror different aspects of the German original. This conversation sets the mood for the evening and is followed by our study of the chosen book or lecture.
From 2015 to 2019, the group was studying Rudolf Steiner's Anthroposophical Leading Thoughts in connection with Carl Unger's The Language of the Consciousness Soul. Our present study is Georg Kuehlewind's Working withAnthroposophy, which will be followed by a book of selected lectures and writings by Rudolf Steiner, The Archangel Michael—His Mission and Ours.
Questions and conversations are the lifeblood of our study. Exploring the texts together, step by step and from different angles, gives us the experience of a co-creative effort in arriving at a level of understanding that we could not accomplish on our own. And what is more, this united quest for cognition helps us to get to know each other.
Since 2003, members of the General Anthroposophical Section of the School of Spiritual Science, living in Kelowna, Westbank, Lumby and Nelson, meet in Kelowna (usually on 5 weekends per year) to attend Class lessons and participate in Class conversations.