22 Feb

Class Holders/Council meeting October 17 – 20, 2019  Thornhill, Ontario, Canada

A first conference exploring the General Anthroposophical Section as experienced in Canada included local (Toronto area) Class members as well as Class Holders and Council members.

My questions going into this conference were about deepening my understanding of the General Anthroposophical Section, its role in Anthroposophy, its role in my life.  A challenge for me has been this word, 'section'.  It seems counter-intuitive to call it a section.  Olaf Lampson once suggested that we think of it as a 'field' while Ute Weinmann suggested 'sphere'.  These options appeal to me more than 'section'.

What started for me as an exploration of the landscape of the General Anthroposophical Section over the last year as I became a part of the organizing team of four (with Dorothy LeBaron, John Glanzer and Greg Scott) who carried the torch of this conference, became a deepening process of my orientation to the significance anthroposophy plays in my life.  In the last decades, since I came to anthroposophy, it has become a part of me both inwardly and outwardly in ways that I wasn't fully conscious of.  It informs my work as a Class holder, and as a teacher, and 'breathes' into the rhythm of my days and in my relationships. The General Anthroposophical Section runs through my life like a river in the landscape, providing a place of beauty and truth, a place to come and renew myself.  It enriches my life in both subtle and profound ways.

The conference offered an excellent balance between the artistic work – speech, eurythmy, painting –, social working – biography, collaborative artistic work and 'cafe conversations' – and talks on the early history of the GAS -Eric Philips-Oxford brought his talk 'From Fire to Foundation Stone' while Bert Chase carried the historical context further with a talk he called 'Growth: Centre and Periphery – Goetheanum and Collegium'.  John Glanzer added to these elements that which activated us to hold this conference namely the question posed to Class Holders world-wide last fall by the Executive Council: What might it look like were the world circle of Class Holders to help carry the General Anthroposphical Section?

Each day the mood was set with the reading of the Foundation Stone Meditation in English, French and German, as brought by Rudolf Steiner at the Christmas Conference of 1923.  This was carried by speech artist, Patricia Smith with Eric Philips-Oxford reading the French.

We explored the present realities and future possibilities of the General Anthroposophical Section in "Cafe Conversations" (one question at each table in smaller groups).  After these conversations we returned to the whole group with a gesture or word or two from each group.  This led to fruitful discussions in our plenum.

Eurythmy, brought two very different experiences, with the smaller group of Class holders and Council we explored thinking, feeling and willing in two sessions with the challenge to work/move together: with a verse as guide we moved in different inter-mingling rhythms (will with feeling, thinking with feeling etc) first in a small group and then as one.  Having 3 differentiated soul forces find their way harmoniously proved a bit of a challenge at first, but we overcame that with practise.  I could relate these experiences to times in my biography where my soul forces were in conflict with each other. The process was both engaging and challenging but once we were in sync it felt harmonious and beautiful – I can imagine this being done with veils of colour representing thinking(blue), feeling(red) and willing(yellow). Painting (with Regine Kurek) in the smaller group worked with the three soul forces.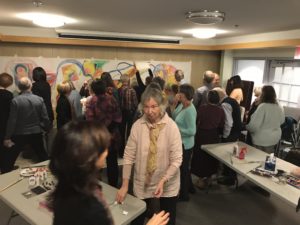 In the larger group – Friday evening and a full Saturday – of about 40 participants in total– we heard from Eric, Bert and John and then, carried by Regine Kurek, those of us who had painted in the smaller group were given back our paintings and asked to find someone to partner with who did not have a painting.  A wonderful experience as some of us had the opportunity to collaborate with a new friend.  This created a dynamic energy in the room as we were asked to speak with our partner about the process of the earlier painting.  We were then given the instructions:  There was a huge 'canvass' on a wall, and we were to glue our paintings there – the paintings could be left whole or ripped/cut up – and then, using crayons, pastels and charcoal, we were to work together to fill the spaces between the paintings.  The enthusiasm and collaboration was exciting to be a part of, I think most of us had both active times and also moments when we moved back to allow others to move in and also to observe as the spaces between the paintings were filled in.  We ended up with…well, a large, busy piece of work reminiscent of graffiti that could have been called almost anything…from a mess to a treasure.  For me, the result was less significant than the process, the buzz of activity, of transformation, of adults playing filled my cup for a long, long time!
On Saturday morning we began with Ute bringing the 5th Lesson with a Goethean conversation which was wonderful on its own, and amazing as it provided a real entry into the Intervalic Eurythmy with Michael Chapitis, exploring tones and the spaces between them.  This offered an experience of a personal relationship with one's path particularly in relationship to a threshold.  The musical sound carried the mood and the individual could experience a threshold through the suggested movements – given by Rudolf Steiner – with different tones and the spaces between them.  Here we moved together as a group and seemed to be able to master the movements quickly, it was wonderful.  A few elder-anthroposophists who were not able to participate were on the sidelines taking it all in; I'm certain it nourished them as much as it did those of us who were able to move the suggested forms.
After a morning break we explored one of three themes in the Cafe Conversations at six tables with up to eight participants at each table.  These themes came from the Vorstand in the December 2018 edition of Anthroposophy Worldwide at p.11, "General Anthroposophical Section – Culture of Human Dignity" and were as follows:
·      Anthroposophy as a spiritual anthropology of the Human Being
·      Anthroposophy as world knowledge and self knowledge creating ethical thinking
·      The GAS as context and carrier of the First Class
A session with Gabriela Freydank-Edelstein took us from an overview of biographical rhythms and thresholds in general to an exploration of a threshold in our own biography first on our own in a short drawing exercise and then shared in an intimate group of three.  She also guided us in a surprisingly profound experience of consciously crossing a threshold:  As we individually left the room through the door, we inwardly carried a personal experience of a threshold and then, upon crossing, looked back from whence we came.
Saturday ended with a plenum.  Which was full and rich.
When Council and Class Holders convened on Sunday morning we agreed that it would be most valuable in Canada to hold these General Anthroposophical Section conferences annually at the opposite side of the country from where the AGM (in May) is held.  This will provide the opportunity for an annual anthroposophical conference on either side of our vast land.  Since the AGM in 2020 is set to be in Vancouver in May, we are in the very early stages of planning a General Anthroposophical Section conference (hopefully) to be held in Montreal next October.
My 'takeaways' were gratitude to all those who participated in the conference, the recognition that the way I see it, is that it's all about karma, and particularly in our time we need to create opportunities to be in relationship with others in our 'stream'.  I experienced a deepening of my relationship with Anthroposophia, of my inner and outer landscapes in the context of her being.  I felt my questions were 'met', and sense the answers will continue to be revealed in more depth.
To have spent this time exploring with others who are also in this stream was enriching, enlivening, inspiring.
KIM HUNTER