23 May

"Don't just sit around the table and talk!"  Ingrid Belenson, Thornhill, ON  

Ingrid grew up in Berlin, Germany. Her path with anthroposophy began when she was pregnant with her first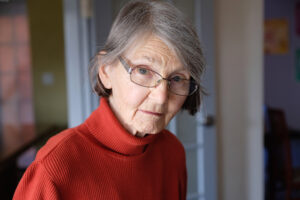 child. She had a dream that made no sense to her. As she described it to a friend, an anthroposophist, the woman had no doubt: "What you have seen is the Goetheanum!" "Goetheanum?" retorted Ingrid, "What is that?" From that moment on, as she says, she was "hooked."
Being a young mother, Ingrid's interest in anthroposophy circled around early childhood education and paediatric medicine. A lecture given by the anthroposophical doctor Klaus Peterson in Berlin, inspired her to study Steiner's work more deeply. At that time Dr. Peterson, who had met Steiner himself, regularly gathered young people at his house to introduce them to anthroposophy. Ingrid and her husband Mel joined this group. These meetings left a deep impression on the couple, especially the question the doctor asked each of the attendants: "From what you've learnt, what will you carry with you into the world?"
Ingrid and Mel had already arranged for a spot for their son at the Berlin Waldorf School but before he reached school age, they relocated to California. Ingrid continued her anthroposophical studies and became involved in the Christian Community. She describes how she attended the Act of Consecration of Man for the first time: "The priest walked in, and in that moment, I knew I was home." 
In the meantime, Ingrid's husband trained as a Waldorf teacher, and in 1974 the couple moved to Toronto where Mel took on the grade one class. When their two children were old enough, Ingrid started working as an accountant and bookkeeper at Toronto Waldorf School.
During her first years in Toronto, Ingrid wished to attend a lecture by Henry Barnes that was classified as "for members only". She had not yet joined the Society at the time, and asked Mr. Barnes for permission to listen to his lecture which he happily granted her. One year later, when he visited Toronto again, Henry Barnes remembered the young woman, and asked her if she had become a member in the meantime. When Ingrid shyly answered: "I don't feel ready, I haven't read enough," he laughed and said: "Don't worry, you have read more than many other people!" 
Ingrid joined the Society shortly after, and was invited to join the council in the early 80's. She also served the Society as a treasurer for several years. "The time on the council has taught me a lot," she says. The extensive travelling during those ten years gave Ingrid an idea of how anthroposophy is living in different places in Canada. 
But Ingrid decided to venture further. At a conference for class members in Ann Arbor in 1997, she met Rolf Kerler, one of the founding members of the German GLS Community Bank. He invited her to Germany where she was able to visit numerous anthroposophical initiatives and organizations across the country. "I was amazed!" she recalls: "There were initiatives everywhere – housing projects, agriculture, education, services for the elderly… and I understood that whatever was done, money was always needed." In Germany the GLS Bank (Community Bank for Lending, Borrowing and Giving) was providing low-interest loans for anthroposophical initiatives. Nothing comparable yet existed in Canada. So, Rolf Kerler sent Ingrid back to her country with a mission: "Don't just sit around the table and talk! Start with a project!"
Ingrid returned to Ottawa and talked it over with her long-time friend, aeronautical engineer Chris Heintz. Together they drew up the by-laws for Vidar Foundation and registered it as a Not-For-Profit organisation with Industry Canada in 2001. 
Ingrid found the first lenders and among them the first co-worker for Vidar Foundation in her circle of friends, mostly anthroposophists, even before the foundation was incorporated in 2001: "Our work was entirely based on trust," she explains: "We just did it!" Vidar's pilot project was the expansion of the Ottawa Waldorf School, which was completed in 2000, and boosted the school's enrolment. Among the lenders was Toronto Waldorf School: A good example of how anthroposophical institutions can support each other. 
When Reinhard Rosch joined the fledgling organization, Vidar started the application process to become a charity, which they were granted in 2003. 
Throughout the years, Vidar has been involved in numerous projects, including the South Shore Waldorf School (NS), the Halton Waldorf School (ON), the toy store "La Grande Ourse" (Montreal), Sunnivue Farm (ON), and the Christian Community Vancouver. Recent endeavours have been the Okanagan Early Years Centre and the Lakeside School Kelowna (both in BC). Vidar continues actively working with the South Shore Waldorf School and has now also started supporting future Waldorf educators through the Waldorf Teacher Training Loan Program in partnership with the Rudolf Steiner College Canada, The West Coast Institute for Anthroposophical Studies and the Institut Rudolf Steiner au Québec.
The foundation that started as a small private initiative is now reaching $2,000 000 in investments. But Ingrid and the other three board members do not want to stop here: "We need to develop it," she says: "Nobody talks about money, but it's needed everywhere!" 
Ingrid was interviewed by Corinna Sons