Saturday, June 3, 2023
12:00 – 2:30 PM (Eastern Standard Time), USA
The Awakening of the Etheric Heart
and Christ as the Lord of Karma
Zoom presentation by
Christine Gruwez
from Antwerp, Belgium, Europe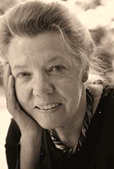 For information, please contact:
Dorothy LeBaron at lebaron@nauticalmind.com
$15 suggested donation
The link to the Zoom Meeting, will be available a week prior to the meeting
Christine Gruwez studied philosophy and linguistics at the KU Leuven, the Catholic University in Louvain, Belgium. She met Anthroposophy through the Waldorf School in Antwerp, which her four children attended, and where she taught from 1976 to 1986. She also taught for a decade in the Waldorf Education Training Program. Since 1997, Christine has led seminars and conferences at Emerson College, at the Goetheanum, in Europe, Asia and the US.
Synopsis of the Presentation
The heart, in the process of awakening human consciousness, can develop into a new cognition organ,
going through the steps of imagination, inspiration and intuition. With imagination and inspiration, the "first" heart develops, which recalls all the past Wisdom ("hears the Word") and gives birth to Christ in us ("Not I, but Christ in me"). With intuition, the "second" heart develops, which beholds the cosmos with Love ("speaks the Word") and collaborates with Christ in the world creation process ("I'm the Way, Truth and Life").
These two relationships to Christ, lead humanity to a true understanding of its own totality in the world.
During the third step, the Christ being as the heart of the entire Cosmos, can enter in the human heart and radiate from within out into the world. This is part of the central event in the whole evolution of earth and mankind: the one-time deed accomplished by Christ as the Mystery of Golgotha.
From there on, the New Mysteries are open to the human heart in the process of becoming a cognition
organ. Wisdom will become Love. In this way, the Christ sun radiating from within can make the law of karma transparent and transform it so that world and individual karma enter into a future mutual redeeming process.
Suggested Reading
• CW 212 "The Human Soul in Relation to World Evolution"; Lecture 26 May 1922, "The Formation of the
Etheric and the Astral Heart"
• GA 40 "Wahrspruchworte", p. 307 in German edition (meditation that was given to Ita Wegman by Rudolf
Steiner on 27 February 1924, at his 63rd birthday)
"Hearts interpret Karma:
When hearts learn
To read the Word,
Which creates in
Human Life;
When hearts learn
To speak the Word,
Which creates in
The Human Being."