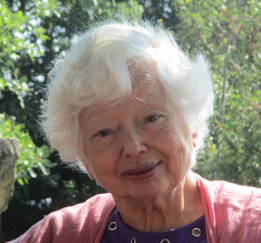 21 Feb

In Memory of Barbara Sparling May 17, 1933 – January 26, 2021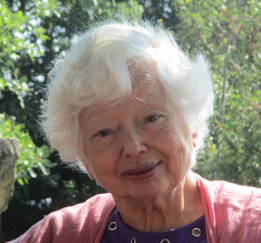 My neighbour Barbara Sparling used a cane as she walked. Are you picturing a frail person, a hesitant person? She walked with confidence, firmly planting each foot. If she spoke to you her eyes meet yours directly and whether she agreed with you or not her words conveyed respect and intelligence. She was a rather small person who exuded good humour and streng
Before the sky fell in March last year Barbara and I were enjoying dinner in a restaurant after which we were going to see a play. I asked her what she did in her working years. She said with a smile watching for my reaction, "I started out as a professional dancer!" I don't know what I was expecting, but dancing would never have entered my mind.
Barbara Sparling was born in Cook County Hospital in Chicago, Illinois in 1933. Her early years were spent in Evanston, Illinois, a suburb of Chicago and the site of Northwestern University. Her father worked in the oil industry. He owned the company which would become the Quaker Oil Company. During WW II he was Chief Coordinator of the fuel industry. Her mother, Nelda Holmgren became a noted microbiologist, completing her PhD at Northwestern University in the same year that Barbara graduated from Evanston Township High School. Nelda was involved in the establishment of the first Cell Science Centre in Lake Placid, N.Y
When Barbara was six years old her father left his family. Her mother suffered a nervous breakdown and was hospitalized. Barbara and her brother were sent to separate boarding schools. Her brother remained in a military school through grade eight. Barbara spent one year in a Catholic boarding school. She was eight years old and was not Catholic, so it was an unsettling year for her. When she returned home, her mother was working and studying, and her brother was away at school. The next five years were very lonely ones.
At nine years of age Barbara knew she wanted to be a dancer. She awoke early every morning and did her stretches, as all ballerinas must. She studied dance at a small finishing school in Evanston for four years. At thirteen she went to a modern dance camp on Washington Island, Wisconsin. She was enamoured with modern dance and so studied with Sybil Shearer, (Sybil Shearer had also been drawn to ballet at a young age but built a career in modern dance which took off after an acclaimed solo performance at Carnegie Hall in New York in 1941. She eventually settled near Chicago). Shearer's studio was in Winnetka, a suburb of Chicago. Barbara's father lived in Winnetka with his second family and she would often babysit his two boys. Barbara financed her studies with Ms. Shearer by teaching dance to children.
With Barbara's drive to become a dancer and her mother's preoccupation with her studies Barbara became quite independent. She went back to studying ballet in Chicago, which necessitated traveling downtown on the elevated train at least three days a week. Her mother didn't support her dancing ambitions financially but allowed her to accomplish what she could on her own as long as she maintained her grades. During this period she had one very good friend, Phyllis, who also lived alone with her mother. As high school students the two girls loved attending high school basketball and football games and sitting in Coolies Cupboard after the games enjoying chips and a coke.
When Barbara graduated from high school, she moved into the 'Y' on the north side of Chicago and studied daily with Stone & Camryn. Stone taught ballet and toe and Camryn taught character dancing. She took classes from other teachers when possible. To pacify her mother Barbara did complete one year in a liberal arts program at Northwestern University.
Barbara first came across Anthroposophy when she was nineteen years old. She purchased Knowledge of the Higher World and its Attainment by Rudolf Steiner from a second hand bookstore in Chicago. Over the years she often returned to this volume for inspiration, particularly in times of depression.
She recalls thinking that this way of life; persons living this way of life were on to something. She liked what she read. It provided a sharp contrast to the xenophobic and intolerant sentiments openly expressed in society. It is such a natural thing for a young person to absorb the tenor of the times, but Barbara was attracted by the contrasting and uplifting philosophy depicted in this book.
Rogers and Hammerstein ushered in the golden age of American musical theatre by creating quintessential American stories for American audiences. Unique for the time, their works often alluded to groups of people who were excluded from the so-called American dream because of their class, race or religion. Their stories changed the nature of musical theatre offerings from frothy playful vehicles to narratives with thought provoking themes. The Rogers and Hammerstein hit musical The King and I opened on Broadway 0n March 29, 1951 starring Gertrude Lawrence and Yul Brynner. It ran for three years and won five Tony awards.
The first American touring company of the King and I choreographed by Jerome Robbins opened in Hershey, Pennsylvania in1954. They played in 30 cities, including Toronto, closing at the Shubert Theatre in Philadelphia in 1955. While performing in Chicago the company held an audition for a dancer. Barbara was one of one hundred auditioning for one part. She survived four cuts and was the last woman standing. She traveled with this show for six months until it closed and then flew back to Chicago.
In the mid-1860s the King of Siam hired an English nanny to tutor his heirs and his wives in the English language and in western culture. The English nanny, Anna Leonowens, on whose memoir the King and I is based, was an avid abolitionist. Anna's esteem for Harriet Beecher Stowe, the author of Uncle Tom's Cabin, prompted her to speak of the antislavery movement to the King's wives. One of these wives, Sonklin, became a close friend of Anna's. Anna is thought to have read excerpts from Uncle Tom's Cabin to her royal charges. Within the play itself Anna gives Tuptim a copy of Uncle Tom's Cabin. The doomed Tuptim, a beautiful slave given to the King as a gift, is tasked by the King to present a play before the Court and visiting British diplomats. The King wishes to demonstrate that Siam is very much a modern country aware of western culture and not a realm lost in the past.
Tuptim narrates The Small House of Uncle Thomas, a ballet, a play within a play, based on the character Liza from the novel Uncle Tom's Cabin. The irony being that Tuptim lives the same fate as Liza, a woman who is essentially the property of a man and makes the mistake of trying to be free of his domination. One can imagine that the king was not amused. The threads of life weave an intricate tapestry. Barbara would come to dance this depiction of the cruelty of slavery on stages across America and in Toronto. Despite the efforts of Anna Leonowens and Harriet Beecher Stowe a century before, Barbara understood that society continued to struggle mightily with her firmly held belief in the equality of persons.
After the show closed Barbara wondered where she would find work. She recalled the thriving art scene in Toronto, including CBC television shows like Hit Parade, Showtime and the Wayne and Shuster Show, where she might find work as a dancer. In 1956 she drove to the Canadian border and applied for Landed Immigrant Status. This was granted immediately at the border. This has to be a story in itself when one considers what acquiring this legal residency involves today. During this period she did find work at the CBC and played Priscilla in a musical production of Anne of Green Gables.
Like many in show business then and now Barbara had to supplement her income with other employment. Those of you who remember the Toronto of this period will recall the thriving coffee house era in Yorkville (Gordon Lightfoot territory). Barbara worked part time in The House of Hamburg, a jazz club where musicians would join a set in the casual manner of the times. There was a particular tenor sax player, Bill Sparling, who caught her eye. Bill was working with some of the well-known bands of the era including Moe Kaufman and Rob McConnell.
The government changed in Canada in 1957 and the new Conservative prime minister set about cutting funding to the arts, (where have we heard this before!) and the CBC in particular. Barbara and Bill were married in 1958 but were no longer able to eke out a living in the entertainment business and Bill tried his hand at running a music shop.
Barbara took a six-month course in early childhood education and worked at a co- operative nursery school at the Unitarian Church until her son Ken was born in 1959. A daughter, Genevieve arrived in 1961. The marriage was over by 1965 and Barbara began the tough job of re-entering the job market with two small children to care for.
As her mother registered the children at Bayview Glen private school, Genni piped up and offered that her mother was a teacher. The registrar took note and Barbara soon had a class of two year olds. The owner of Bayview Glen sent Barbara to the University of Toronto to do a two year course in early childhood education. During this time Barbara met Pat Kettle, one of the founding members of the Toronto Waldorf School.
This connection to the Waldorf community in Toronto led to various teaching positions over the years with The Toronto Waldorf and other Waldorf schools. Barbara has great respect for Waldorf philosophy around education and particularly enjoyed being involved in the excitement and camaraderie at the beginnings of the TWS experience. Because she kept in touch with her TWS colleagues Barbara was aware of Hesperus and moved into the new part of the building on October 3, 2011. She was an active and resourceful member of the Social, Cultural, Library, General and Aesthetics Circles which promote and enrich the lives of her fellow residents.
At one point after many years of teaching Barbara decided to experiment with life in a totally new way. She moved into a log cabin just east of Janesville, Ontario. "It was situated on a one hundred and fifty acre parcel of land with forests, meadows and a stream running through it. There was mint by the stream and watercress growing in it". The cabin was on a high hill overlooking the property. A small annex provided a bathroom, running water and electric heat. The original part of the cabin was heated with a wood burning stove. In the winter when the pipes froze Barbara had to haul water and chop logs for kindling. There was an old stable with a room above it where guests could stay. Barbara had an outdoor fireplace and often slept outdoors in a tent. She drove her truck to reach her closest neighbours who were about a kilometre down the hill. That young girl who made her way all over Chicago and environs in a determined pursuit of her dreams, that fiercely independent person was alive and well, and not afraid of new frontiers. And she lived across the hall from me. We were neighbours and I so enjoyed hearing her remarkable story.
Julia Collins
Reprinted with minor edits from Hesperus' On Ècrit, October edition and shared at her funeral