22 Nov

Meeting One Another: Kaitlin Brown – Blockhouse, Nova Scotia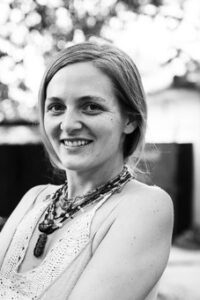 I was first introduced to anthroposophy while volunteering at a small Waldorf school initiative, Sisonke School in the village of Port St. John's, in the Transkei region of South Africa when I was 19 years old. The agricultural lectures were my first Steiner readings as at 19 years' old after growing up in Northern Alberta in a very mainstream atheist home I had the sudden realization that as a human being I was a part of nature and not something foreign.  Out of that realization I dedicated my life to being a naturalist.  I travelled around to many different farms gathering skills such as organic gardening, biodynamic animal husbandry, natural dying, hand crafting my own clothing, natural building, herbalism, among many other practical self-sustaining skills. In 2009, I met my soon to be husband and had my first child In December 2010. With the blessing of expecting a baby I turned my study to the incarnating human being. I read and re-read education of a child, among many other Steiner books on the topic of incarnation and Waldorf education. In 2011, I visited my first Waldorf school in Durban, South Africa. I can clearly remember the impression it had on me. Firstly, it was strikingly different from the mainstream schools in South Africa which are mostly large cement buildings with bars over the windows and electric fences all around them. This school I saw as "rolling hills and bunny cages." At that first Waldorf school site I decided I wanted to be a Waldorf kindergarden teacher.
I continued with my anthroposophical study together with my husband, grew our family, was involved with many different schools in South Africa, moved back to Canada, started a raw chocolate company, travelled to India as family, ran an organic vegetable market garden, opened my own in-home Waldorf based homecare program (among many other happenings). In my will years, all my dreams were manifesting very quickly then my husband died of a sudden asthma attack. I had given a lot of attention to the incarnating of a human being and the early years of life but had not studied after death at all. I was blessed with a kind mentor sending me some information on the anthroposophical outlook on death and the journey after that brought me clarity and reassurance. During these years although my personal and home life were beautiful, we did not have any other anthroposophist in our local area and I became aware that having a spiritual community around us was important.
I spent the next few years focusing on holding a sacred space for my children and me and not compromising on any of my values that I hold so dear for young children travelling between South Africa and Canada. In 2017, with the help of many angels and earth angels I was able to take my Waldorf early childhood training with the West Coast Institute on Vancouver Island.  My biggest karmic moment from that training was when two separate lecturers were speaking unbeknownst to each other on the importance of the other. "The human being can no longer develop fully by themselves, they need others…in short it is easy to be a saint when you are living in the Himalayas but not so easy when you are living with your in-laws." I had ended up in that training trying to overcome my own tendency to be a hermit and share the beautiful love and warmth that I shared with my own children with more of the world. In 2018, I decided that we would move to the east coast, as growing up in Northern Alberta there was a lot of east coasters working and they always said, "I am only working here for a short time and then I will go home. I can't wait to go home." I noted from that statement that the east coast must be a nice place! So, settling in Canada I packed up my three children, most loved possessions and drove and camped across Canada. In the east coast there are two Waldorf schools. We spent one year with the Knowlesville Art and Nature School. A small rural New Brunswick school that is run in conjunction with a land trust, however again, I learnt that being surrounded by an anthroposophical community was important for me. In March of 2019, I took the position of senior kindergarten teacher at the South Shore Waldorf School in Blockhouse Nova Scotia and am still the kindergarten teacher this present day. I have grown a lot from the experience of working in a Waldorf school. My kindergarten children are very dear to my heart and I consider them angels. Those children are surrounded by love and warmth. We share such a caring love in which their beings are nourished and are met with a deep welcoming gesture. The Waldorf kindergarten is a safe and loving place. I joined the anthroposophical society after being introduced to it by Micah Edelstein, a council member who devotionally built a new addition to the South Shore Waldorf school in 2018. I was asked in 2021, as a council member for The Anthroposophical Society in Canada and was elected in June 2021. I took up the task with my whole being and out of a free deed. I hope I can support the society and its members to the best of my abilities. I choose to act out of truth, gentleness and kindness as well as having a keen interest in creating a unifying relationship between the generations. I am 33 years old this year and look forward to forming relationships with many of you over the years to come. 
**********
In the vastness that is Canada we celebrate those times when we can come together, to be with one another. The separation we have experienced over the past year has affected us deeply. We have longed to be with one another. This is our strength. 
As we come closer to the point of renewal, of re-inauguration, at Christmas 2023 we seek to support this longing to meet each other month by month through the eNews. To make this possible an invitation is given to each of you to share your story.
How did you meet anthroposophy? What led you to join the Anthroposophical Society?
With 500 words, and a photo, share your journey with us. We all look forward to meeting you.
Send your contribution to:
Jef Saunders: <communications@anthroposophy.ca>