23 Oct

Eurythmy-by-the-Sea/Shore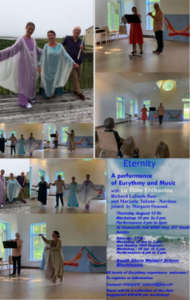 "Where does the road wend?"
(Nova Scotia!)
What a wonderful feeling to stand with others in a circle again!  Eurythmy can bring such warmth and strength; our separateness becomes a wholeness…an image of Eternity!
"Eternity" is the name of the artistic program which Marjorie Taliano-Nordas (eurythmist) and Richard Lalonde (musician), brought to us at Seaforth and The South Shore Waldorf School. Inspired by a verse by Evelyn Capel, first female Christian Community priest in England…it became a theme that wove in and out of our days!
"Further than you can see…."
Our weary guests from Montreal arrived at 3am, after their flight was delayed and detoured to Toronto!  They managed to squeeze "Eternity" into their carry-on luggage…eurythmy dresses and veils and silks…music, flutes and penny whistles!  Having barely landed it was time to rehearse, iron costumes and put our eurythmy duets together…. finalize the program. And work with our speakers!
"How will we get there?"  They soon learnt the local winding bus route to get to our house, the scene of the action. But the venues of eurythmy workshops were on the eastern and south shore of Nova Scotia! Without wheels or wings, the wonderful community surrounding the Waldorf School, came to the rescue. They drove us hither and thither…! The gesture of sharing-the-carrying of the eurythmy days was heart-warming!  Marjorie and Richard were such appreciative visitors…!
"Where does the stream end?
In the far distant sea…."
Like picking up fragments of a dream, this initiative grew from a flitting thought, to an insistent ideal, to a happening!  Marjorie, Arthur and I trained at the same eurythmy school decades ago, and when our paths crossed a couple of times she related how she dreamed of returning to Nova Scotia, a place she visited in her youth and remembered the beach…adjacent to our Seaforth Hall!
We both share the passion of nurturing eurythmy in Canada, and thanks to the Anthroposophical Society in Canada and the Nova Scotia Branch, and a growing eurythmy kitty, the dream could "end in the sea" …. by the Atlantic waves!  A recently built hall at the Waldorf school with curvy windows, sculpted corners and a heaven-high ceiling just made one want to do eurythmy! A perfect venue!
"Whither does time extend?
Into Eternity!"
During our three workshop days, Richard accompanied the lessons sensitively and beautifully whilst Marjorie leads us in flowing, forming gestures and elements of tone eurythmy. Our participants were enthusiasts, parents, teachers and friends!
The performances began with flute duets from the 'Magic Flute' and more. Then Marjorie changed in and out of costumes and offered her tone solo pieces…and I made a couple of appearances too!
Before we knew it all the activity was over.  Yet, the memories have not faded!  They continue to ebb and swell, and who can tell where it will all lead?  Into Eternity?
Margaret & Arthur Osmond
Eurythmy-by-the-Sea/Shore