26 Apr

My Story and the Story Behind Myriad Village in Manitoba – Monika Pudelko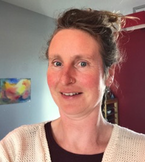 It has been always my dream to live in a harmonious way with nature.
I grew up in the country side in northern Germany and played each afternoon in fields and forests. In my early twenties I met anthroposophy which gave me answers to the big questions I had about the world. Along the way I studied painting, sculpture and eurythmy; I also became a Waldorf teacher and was active in the Youth Section.
The need of environmental change and my deep connection to the arts and anthroposophy have always gone together.
In 2008 at a Goetheanum conference I had the good fortune to meet Ibrahim Abouleish, the founder of Sekem in Egypt. From then on I knew for certain that it was possible to create a community, harmonious with nature and enlivened with the arts, Waldorf education and the practice of biodynamic farming and also made feasible with a healthy economic life.
In 2012 I felt guided to move to Canada. After some travelling and teaching and performing eurythmy I moved to Winnipeg. There were no anthroposophical institutions or a Waldorf School nearby but somehow I felt well-situated in a place right in the middle of this big country. The landscape was calling to me for assistance and I believed I could help make it more healthy.
In my new community I taught eurythmy and met people interested in Waldorf education and participated in alternative events. Soon I made many new friends, including people who had the same interests that I have for a healthy life in nature. From 2014 to 2018 I ran a small home-based Waldorf childcare centre to meet the needs for the area and to generate an income.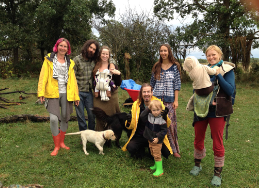 In the summer of 2014 a Facebook page calledManitobaEcovillage Currently Formingwas created.
Meetings were called and so many good people showed up; there was a lot of excitement and talk! Soon it became clear that nothing would happen if a few of us didn't hunker down and go through the eye of the needle to create a legal foundation. A core group ranging from 3-8 people put in countless weekend hours towards this end and eventually Manitoba Ecovillage Currently Formingturned into a legal entity called Myriad Village Marketing Coop.
First we received a very generous donation. With our land costs now covered, we were able to move right into forming a cooperative. I won't go into details but we found that this was a far more tedious process than anyone would have anticipated.
We are now registered officially as a marketing coop. We have written a collaborative mission and vision statement, taken minutes at each of our meetings dating back to March 2015 and searched thoroughly for the right piece of land. We called the land-searching crew, The Land Hounds.
The Hounds visited countless properties all over Manitoba. We eventually decided on a property we now call Myriad Village; it is one hour from Winnipeg, 20 minutes west of Gimli and within walking distance of our beloved Dennis Lake, teaming with bird life from red-winged blackbirds to cranes.. Myriad Village has 320 acres with so much possibility to develop and cultivate. To us, our property is a vastly beautiful place teaming with life!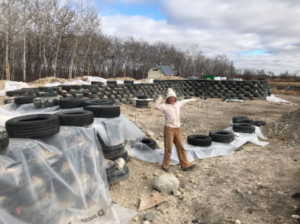 We've spotted our neighbour, a beaver, with an impressive den in the middle of the pond. Falcons screech their ancient song, and the tracks of elk, coyotes and grouse reflect a landscape full of diversity.
But there is now still so much to be do.
We need people to join us to build sustainable housing. Our 'pioneer memberships' are designed to be very affordable while offering the potential for people to be involved in the necessary fund raising. This location is well suited to avoid any major floods and earthquakes; it has workable land for horticulture and space for small scale grain-raising, and rotation livestock. There is approximately 60 acres of forested land including oak bluffs and poplar stands. Mixed in the landscape are vast hazel standings and chains of wetlands well positioned for aquascaping. It is not a pristine untouched landscape; it has been worked, abandoned, and worked again.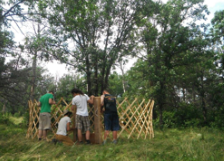 We are excited about the possibilities for developing and building! Please join us in June for the following workshops: 
Earthship Building Workshop at Myriad Village
Learn how to build an earthship as an example of a passive solar house system, using recycled materials, with special features through hands-on-experiences with master builders.
Workshop1: June 3rd – June 8th tire pounding – insulation –
greenhouse windows – prep tire wall for roof
Workshop2: June 10th – June 15th roof construction – water
catchment – windows – bottle design walls
$350 per workshop (includes 3 daily, 80% organic meals. *pay
$150 for the 2nd workshop if you participate in both.
Camping options available with amenities (water, toilet)
To register or for more information: vida-monika@outlook.com
or phone 204-430-6943
Monika Pudelko, with Susan Koppersmith