22 Nov

Obituary: Michael Lange October 11, 1939 – September 12, 2021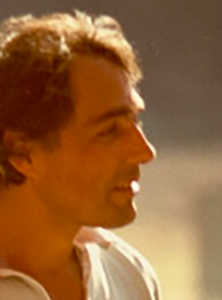 Michael was born in an ambulance that had broken down on the way to the hospital. This was in Hamburg, Germany, a month after WW2 had been declared. His father was an aspiring sea captain, away at sea on the famous sailing vessel, the Padua. His maternal grandfather was a sail-maker on that ship. The grandfather introduced his granddaughter to the mariner. 
Michael and his mother, Ruth, lived in an old neighbourhood by the River Elbe. His first memory was looking out the window to see hundreds of planes coming up the river from the west, dropping things. His sister, Marion, was born three years later. Those years were spent surviving and running to bomb shelters until finally, the great fire-bombing sent thousands walking away from the city towards the east. 
Alone, the two children managed to stay together on cattle trains, in orphanages, in foster homes, always with strangers until they found themselves with their paternal grandmother in a single room in a tenement in Wuppertal. They went to school there until grade 8. Then Michael's father sent him off to Hamburg at 14 to become an electrician. 
His parting gift was "Knowledge of Higher Worlds". 
His mother had gone to the Berlin Waldorf School until it was closed by Hitler in 1933. His maternal grandmother was a close friend of one of the first woman priests of the Christian Community. 
Michael finished his apprenticeship, went to night school and completed Gr.13. He began working and taking courses at a large bank. At that time he was steeping himself in Goethe and living with friends who were going to the university. 
His mother married an American theologian in 1959 and left for New York, taking Marion with them. Two years later, Michael joined them in the parsonage at the North Vancouver Lutheran Church. He had bought several books at the Rudolf Steiner bookstore in NYC on his way across the continent. 
Michael worked as an electrician up north in the mines where he met Dick Goldhammer, who was later involved with Anthroposophy in Vancouver. He began honours science at UBC, then switched to political philosophy for his MA. By that time he was married with two children, Rene and Isabel. He and his wife, Bronwyn, had been introduced to Katherine Mayne, the group leader, by his mother. They became active members soon after. 
Michael worked in child-support and was on the executive of the union as chief shop steward for several years. When Rene was of school age, they bought a cottage near the beach, closer to the new Waldorf School. 
In 1981, their friend and fellow member, Gerald Lawrence, had a stroke and subsequently asked them to take over importing the remedies from Germany, two small boxes at the time. This became a thriving business; negotiating with the federal government for freedom of therapy and accessibility to the remedies, holding conferences at the school for visiting doctors, therapists and educators and attending annual meetings in Dornach. 
Jonathan and Jennifer had been born and life was full of joy for Michael… family, friends, camping, cruising. He delighted in racing the sailboat year-round, often taking the older children with him, especially happy in the winter storms. 
The business ended in 1991. A few years later, a good friend funded the start-up, Eabani Labs, where the first cosmetic products were developed and sold across Canada. This venture had to be discontinued a couple of years later due to lack of funding. 
Michael spent his later years living simply and quietly in a beautiful neighbourhood of Vancouver, by the ocean. He went into extended care for nearly three years before dying peacefully from Alzheimer's.