26 Apr

The Australian in the Room New Adult Educator Path I and II (August 2019 and Feb/March 2020).

hands receive and give

warmly held community

– now I sit alone

Outside my small apartment in Highgate, near the Perth Central Business District, Western Australia, birds sing. I was woken by the guffawing laugh of kookaburras and now listen for the sweeter song of doves and wattle birds. I am in self-isolation.

I arrived a few days ago from Cleveland, Ohio after staying with dear friends in Erie PA for nearly two weeks. And I travelled there from Toronto after Path II of the NAE Training with Arlene Thorn at Bonnieview Farm near Meaford, Ontario from 28 February-8 March, 2020.

My journey was planned months ago. I returned to Australia on 24 March, just hours before the Western Australian borders were closed – thus my fourteen day self-isolation.

This preamble  invites you to my story of discovery. Since my partner's death in 2014 and my retirement from 45 years of teaching and Arts' education in the public system in Western Australia, I have spent short and delightful periods of time with his sister and her partner in Erie, PA. Last June I enticed my two good friends to meet me in Toronto and to spend a few days exploring together.

Always interested in conferences when I travel, I investigated the possibility of Anthroposophical events in Toronto.

I discovered that there was to be a weekend conference Moving Towards the Future 8-9 June, 2019, presented by the New Adult Learning Movement (NALM). I was immediately interested. I had been opened to 'destiny learning'  and Coenraad van Houten's work when training in Biography Work with Karl-Heinz Finke in Sydney, Australia from 2014-2016.

So I leapt in and found myself dog paddling as the mermaids and porpoise dived around me!

Everyone had either attended New Adult Learning workshops or had, or were, actually presenting various linked classes. The Australian was the only one out of her depth. But I like the new and so doggedly did my best to keep up!

Arlene Thorn was the facilitator and modelled a clarity of mind and kindness of spirit that kept things flowing. We were treated to a comprehensive review of the life work of Coenraad van Houten by his widow Shirley Routledge-van Houten, specifically as it had emerged in her life. It was a gentle and encompassing talk and her love and respect for Coenraad van Houten was palpable.

I left with an invitation to return to Canada in August 2019 to attend Path I of the New Adult Educator Program.  Within days I had my flights booked.

The August week at the lake with four other participants and Arlene was extraordinary.

Life shifting. The seven learning processes were explored in days of rhythmic discovery and friendship. I was inspired to share the work on my return to Western Australia.

A great joy in my life since 2017 is my ongoing work with three other women. We call ourselves the Word Sisters and we have written and performed a work that blends biography, the vowels and the planets in a piece called Dancing Backwards. We presented at the Australian Anthroposophical Conference in 2018 and at the Adelaide Fringe Festival in 2019. We are currently developing the second work exploring biographically through the consonants and the zodiac. These friends found the seven learning processes a wonderful addition to the way we develop our work.
As a further diversion to the story, I returned to Perth after the August in Canada to rehearse and perform in a work developed by Jennifer and Horst Kornberger, Anthroposophical luminaries in Australia, along with five musicians and performers from Slovenia, three local actors and a chorus of ten, in Somnus, an exploration of sleep for the Fremantle Biennale in November, 2019.. The importance of sleep and night work in New Adult Learning was complimented by this unique experience.
I spent hours of rehearsal under the veil…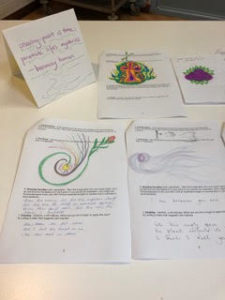 At the end of 2019 I was able to take a group of twelve through the seven learning processes. Many were long-time Anthroposophical members and I was heartened by their warm reception of the Seven Learning Processes. I will include some photographs of the Imaginations they created in relation to the presentation.
My booking for the New Adult Educator Path II was made as soon as the date and place were fixed. When I left Australia at the end of February the Coronavirus still seemed manageable.
It was so good to see my colleagues from Path I and to meet the two participants from BC. We were sequestered at Bonnieview Farm in Meaford, in the rolling hills of Grey County,  which was blanketed in snow and ready to embrace Destiny Learning: a heartful place with rhythmic routine, kind friends and steady helm.
I have already set up Skype sessions to begin to share the practice with two of my Word Sisters. We may be in self-isolation but there are ways to connect.  My only sadness is that it is unlikely that I will be able to attend Path III in August 2020 with my Canadian friends. And that sadness extends to our ailing world and all fellow travellers on this orb.
But a thread of connection has been firmly formed and contributes to the healing so needed now.
The Australian is warmly in the room.
farewelling kind friends,
a murmuration of dreams
– migratory birds
Dale Irving